Access is Everything...
Whatever the mode of transportation and whatever the direction of travel, Lexington County Industrial Park is in the right place. Situated less than a mile from I-26 and I-77, the park offers quick access to I-20, I-26 and I-77. These major interstates put Lexington County Industrial Park within easy reach of other regional metropolitan areas such as Charlotte, Augusta and Greenville-Spartanburg. The seaports of Charleston and Savannah are also within a 3 hours' drive. The Columbia Metropolitan Airport with a UPS hub is just 2 miles away.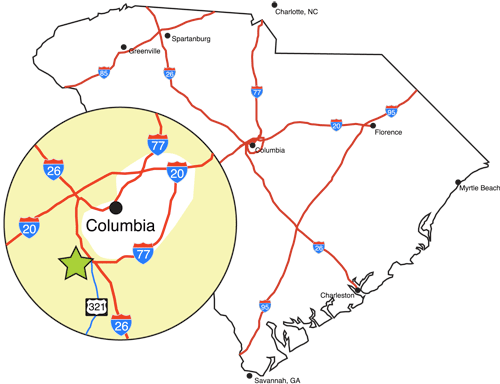 Local destinations, too, are within easy reach. A 12-min drive takes you to Downtown Columbia and the University of South Carolina. A wide variety of lodging and restaurant options are also close to the park.